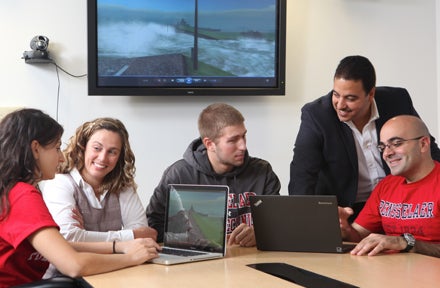 Rensselaer's Co-Terminal Program provides undergraduates the opportunity to pursue graduate degrees while maintaining their undergraduate Rensselaer funding. Most Rensselaer master's programs are available as part of the Co-Terminal Program, and participants follow the same curriculum as traditional master's students.
Co-Terminal students can pursue a master's degree in the same academic discipline as their bachelor's or take an interdisciplinary approach, applying to a graduate program outside of their undergraduate department.
Co-Term students are required to graduate with their bachelor's degree in up to 8 semesters (10 semesters for B. Arch students), with a minimum GPA of 3.0. After graduating with their bachelor's degree, they have up to 2 semesters to complete their master's degree (up to 3 semesters of funding to complete the MBA program).
Applications are due prior to the end of the first semester of senior year. Interested applicants are strongly encouraged to begin talking with their undergraduate advisors during their sophomore or junior years.
Application Deadlines
Deadline dates apply to seniors only. For course planning, it is recommended that you apply before your senior year.

| | |
| --- | --- |
| For students with a bachelor's graduation of December 2023, only | October 15 |
| For students with a bachelor's graduation of May   | November 15 |
| For students with a bachelor's graduation of December   | May 1 |